Love Lives Here: EARTH Day Edition 
DAY ONE
Today's Art Feature:
The Whole World in Her Hands by Alexis Cohen
Alexis is a Visionary Artist, Shamanic Practitioner, CEO of Art Medicine, LLC and founder of the Creative Empowerment Academy. Alexis is passionate about creating art as a vehicle for transformation and supporting the new rising tide of artists, healers, visionaries, entrepreneurs and innovators. You can find Alexis at
alexiscohen.org
 or
alexisjae.org
.
"You cannot get through a single day without having an impact 
on the world around you. What you do makes a difference, 
and you have to decide what kind of difference you want to make." 
~ Jane Goodall
---
Today's Tribute to Barbara Marx Hubbard:
PHOTO BY ANITA JOSEPHINE WALES
"We are gathering here together as a deep communion of pioneering souls 
from every race, nation and religion who experience within ourselves 
the emergence of a Universal Human, a co-creator of new worlds." 
~ Barbara Marx Hubbard
Brief Video: Barbara Marx Hubbard Introducing the New Human (CLICK HERE)
---
Today's Drawdown Feature:
---
Today's Whole Perspective:
"Humankind has not woven the web of life. We are but one thread within it. 
Whatever we do to the web, we do to ourselves. 
All things are bound together ... all things connect." 
---
Today's Schedule (Special Features Added Daily):
Monday, April 15, 2019:
Today's Feature Global Heart Resonance Call
Participatory Practice of Resonance Open to the Public on Zoom at 8am Pacific/11am Eastern. 
Today's Resonant Reflection - "Love Lives Here: Earth." 
Join us as we launch the 
Global Heart Team
Thursday, April 18, 2019: Co-Creator's Convergence Barbara Marx Hubbard Tribute Call
---
Stand in Love for the GOOD of the WHOLE! 
Join the Global Heart Team
All are welcome
 as we launch the Global Heart Team and co-create a loving resonant energy field by taking a stand for LOVE, infusing the world with loving consciousness. Everyone's invited and membership is FREE. Simply sign in on 
GOODoftheWHOLE.com
with email, facebook or twitter and Stand in Love. Join us on our
Facebook Group HERE
.
Watch for a monthly call and other offerings coming soon. 
CLICK HERE
 to learn more. 
---
FREE WATER BOTTLE OR BAG WITH NEW MEMBERSHIP
BECOME A MENTORING STEWARD
Become a Mentoring Steward for as little as $15 per month. Join during the Earth Day Edition and receive your choice of a stainless steel water bottle or canvas tote bag.
GOOD of the WHOLE 
offers a "mentorship" instead of membership.  As stewards of the
WholeWorld-View
 and mentors for the evolution of consciousness, we collectively dwell on the evolutionary edge, ground heart-based initiatives and practices, and listen for new and emerging social forms. We gather with a deep sense of knowing and trust the unified field to guide us. Our co-mentoring community is here to learn, teach, grow, embody, and expand together, as we evolve, and express ourselves for the greater good.  
Mentoring Stewards 
are both mentor and mentored
 for the GOOD of the WHOLE
. Myriad benefits include 
conscious synergistic connection and generative community support
. 
To learn more about our weekly Mentoring Stewards' Community Call
CLICK HERE
---
Exclusive FREE STREAM Special Earth Day Opportunity
With special thanks to filmmakers Velcrow and Nova and their distributor,
Films for the Planet
will be offering FREE streams of Metamorphosis from April 11-15 prior to the film's official theatrical and VOD release on April 16. This will be offered through registration only at Films for the Planet
HERE
.
Through poetic imagery, visual meditation and timely interviews, the series delves into how our environmental crisis is an opportunity for radical personal and planetary transformation.
CLICK HERE TO REGISTER.
 Through a tidal flow of stunning images, Metamorphosis documentary carves a path from the present to the future, and offers a bold new vision for humanity and the world. People signing up for the event can also listen to a podcast with Velcro and Nova, as well as enjoy other free films and educational resources in the series. #FilmsforthePlanet
---
Daily Water Reflection


In the stillness of the morning
with the waters not yet stirred
the sun slowly moves across its surface


Rising and lengthening in a purposeful pattern


This daily ritual seeks not an audience
yet it allows all those who pass by
a moment of sacred contemplation


Silently reconnecting their heart to its source


A trail of Light that beckons them all
into breathing more slowly and quietly
so as not to disturb an ancient remembering


Now deeply felt and acknowledged as unification


This daily ritual of sweet remembrance
stays within our bodies radiating Unity
as we turn away and begin our daily routines


Our busy-ness of collective separation


Forgetting except in brief moments of fond recall
our fragile longing to return to the water's edge
where our illusions disappear in the shining reflections


Charlie Riverman Bergeron 4.10.19
---
Love Lives Here: Earth Day Edition is a collective offering of many different individuals and organizations serving the greater whole. There will be no sales or marketing. This organic unfolding of love and reconnection is our gift to you. If you would like to share your gifts in service of the greater whole, contact us at
[email protected]
Love Lives Here,
GOOD of the WHOLE Community
P.S. Share how Love Lives Here in YOUR Community. 
Deep Gratitude to Previous Year's Co-Creators and Partner Organizations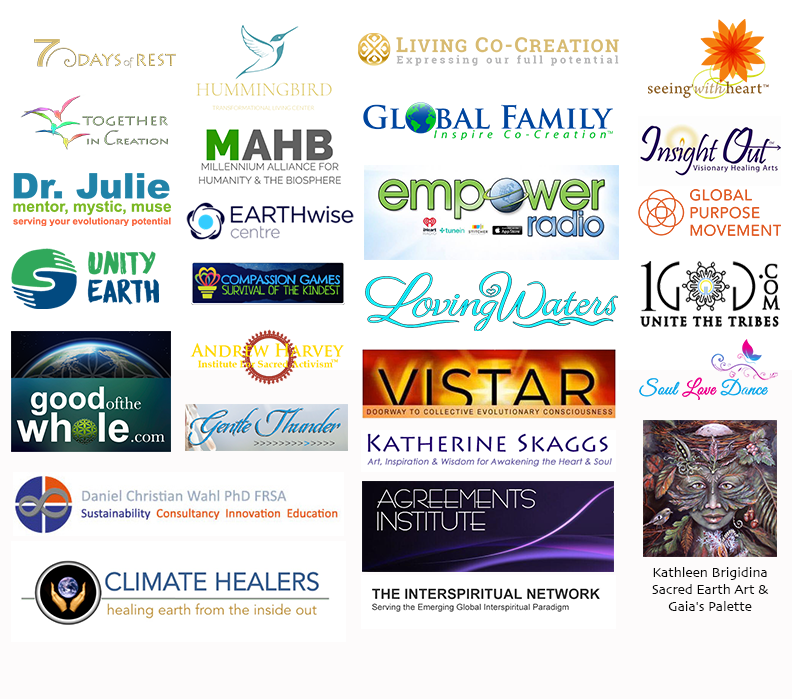 Do you like this post?